Laminated Wood Sculptures By David Engdahl

Forms from Nature
Drawing inspiration from nature, David creates laminated wood sculptures that connect the viewer to the details that compose a natural setting.
Process
David's sculptures start life as an observation that becomes a sketch that is then built, layer by meticulous layer and gently formed to naturally flowing beauty that belies the process that created it.
About
David has been creating his laminated wood sculptures since 1971. His work has been exhibited throughout the country and internationally, and is in the permanent collection of various American museums. Learn more about his artistic journey.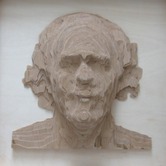 Contact